What to do in the East Bay with kids today. We invite the community to submit fun family-friendly events here. Priority is given to affordable drop-in events in the local Oakland / Berkeley area (510).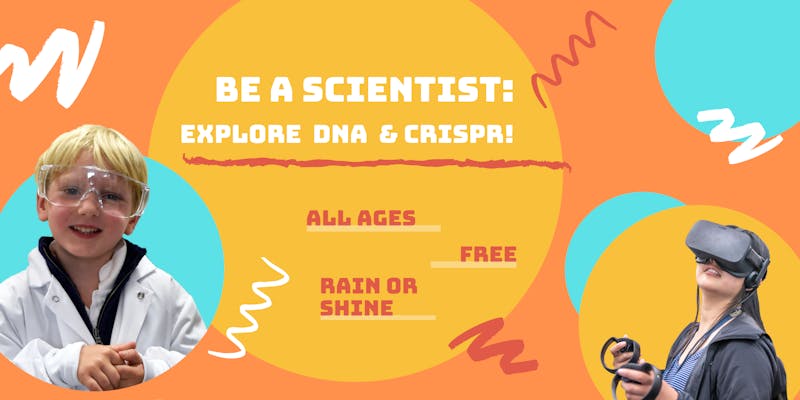 Step into the (close-toed) shoes of a scientist and explore biology at this community-wide science event! Come to the Innovative Genomics Institute (IGI) on Berkeley campus to experience a range of activities designed for visitors of all ages. Discover the fascinating power of DNA, the instruction manual for life. Hear from scientists about the latest advancements in CRISPR genome editing technology. From the basic foundations of biology to current-edge research, there's something for everyone.
This event will be outside (under an awning if it rains) with a variety of hands-on science-themed activities and experiences:
• Build a DNA model with candy
• Play a CRISPR video game
• Travel inside cells in virtual reality
• Dress up in lab coats and take a photo
• Make bracelets and necklaces with lab supplies
• Extract DNA from strawberries
• See proteins and DNA in augmented reality
• Put on science-themed temporary tattoos
• Lots more!
Meet real scientists and tour real research labs! Please note the strict rules about lab tours:
Eventbrite registration does NOT guarantee entry. Tours will begin at 11:20 am and happen every 20 minutes. Space is limited, so arrive early to reserve your spot. Only visitors aged 9 and older are allowed to participate for tours. Close-toed shoes and long pants are required.
NOTE: This date/event is in the past. Keep browsing.
Sun November 10, 2019
11:00 am - 3:00 pm
Innovative Genomics Institute
2151 Berkeley Way Berkeley
FREE
View Website > >
Contact:
Kevin Doxzen
kdoxzen1@berkeley.edu
Add to Your Calendar: iCal
Categories
:
Disclaimer:
Please double check event information with the activity organizer or venue as events can be canceled, details can change after they are added to our calendar, and errors do occur.
COVID-19 Coronavirus note:
Please be mindful of "social distancing" strategies and always wear a mask to events with other people.
Powered by Events Manager