​Kids at the Freight programs are supported by DeYoe Wealth Management, with additional support from the Bill Graham Supporting Foundation of the Jewish Community Endowment Fund​,​ and the Friendship Fund.
In a show as exuberant as their whimsical name, Octopretzel returns to the Freight stage to share exciting new material! The band creates engaging music, inspiring curiosity, wonder, and appreciation for the world we live in. Their skilled musicianship and magical way with children guarantees a dance-able, sing-able and fun experience for the whole family.
For six years now, Octopretzel has been delighting young Bay Area audiences with their colorful and inspired performances. Their shows feature handmade puppets, bubbles of all sizes, and at times hula-hooping Kindergartners. They have been known to inspire spontaneous kiddie mosh-pits, while still maintaining focus and interactive participation. Their songwriting presents imagery of things such as spinning tops, roly polies and whimsical imaginary creatures. From unique interpretations of traditional folk classics to fun and catchy originals, this is music that parents love and has kids asking for more! The band's instrumentation features the mandolin, marimba, the middle-eastern tambourine (or riq), African drums, and many other unique sounds from around the world.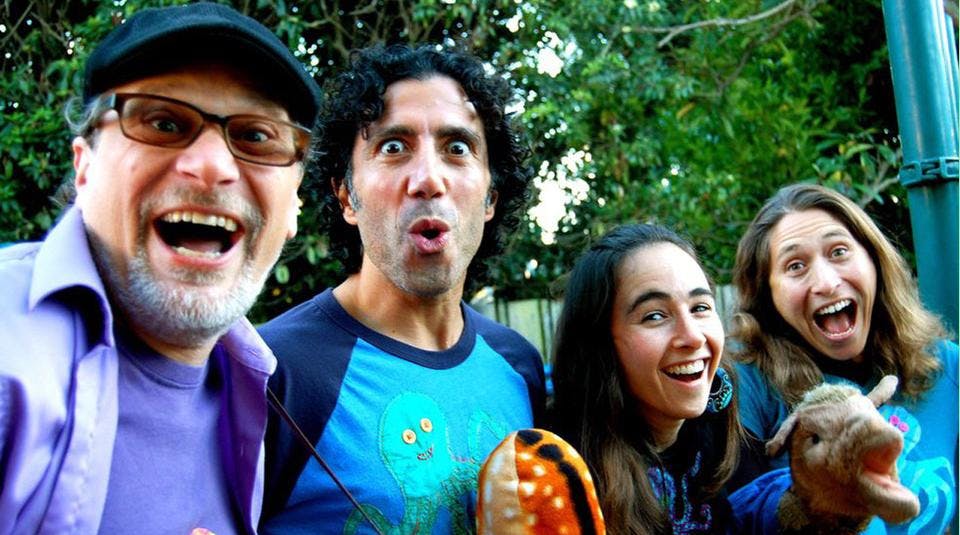 NOTE: This date/event is in the past. Keep browsing.
Sat December 14, 2019
11:00 am - 12:30 pm
Freight & Salvage Coffeehouse
2020 Addison St. Berkeley
$10 advance, $12 at the door
View Website > >
Contact:
rudy trubitt
rudy@trubitt.com
510-644-2020
Add to Your Calendar: iCal
Categories
:
Disclaimer:
Please double check event information with the activity organizer or venue as events can be canceled, details can change after they are added to our calendar, and errors do occur.
COVID-19 Coronavirus note:
Please be mindful of "social distancing" strategies and always wear a mask to events with other people.