Part amusement park and part Zoo, San Jose's Happy Hollow Park & Zoo is a fun-filled destination for a family with young children, just under an hour's drive from Oakland.
I went with my extended family, including my two children, 11 and 13, too old to visit Happy Hollow without their cousins, who were the main beneficiaries of the outing, ages 2 and 4.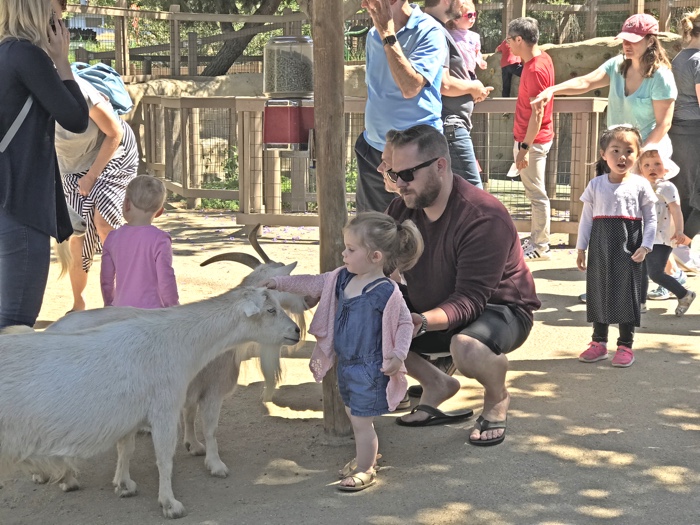 While there are plenty of animals to look at, we spent so much time playing on the various environments that are set up for just that, that we were exhausted by the time we reached the bigger animal habitats and we sort of blew through them.
We were all impressed by the sheer number of play structures — there was something interesting to engage with at every turn. Plus, carnival-style rides, including a carousel, little cars, and a medium-sized roller coaster (not for the preschool set) were worth the wait.
San Jose can be hot, and I was grateful that it was not a 90-degree day. Check the weather – those of us who live close to the coast can forget how unaccustomed we are to outdoor venues in the heat.
Picnic areas invite families to bring their own food, and food is available for purchase on site.
Happy Hollow Park & Zoo is generally best for the under 7 set and promises to be a good time for everyone who accompanies the little ones there.
Admission includes access to all the animal exhibits, any animal meet and greet events scheduled throughout the day (take advantage of these!), AND all rides!
Plan your visit to Happy Hollow Park & Zoo
Visit the Happy Hollow website to check hours as they differ on weekdays and weekends
Admission is $17.25 for people over 2 years old. Babies aged 0-2 are free.
Parking costs $10 per car. It is a 5-minute walk to the entrance from the parking lots. Bring your stroller.
Happy Hollow Park & Zoo is located on Story Rd in San Jose