Given how expensive most Bay Area attractions have become, I was absolutely stunned to learn that an outing to San Francisco's Salesforce Park, including a ride in the glass gondola, is free. Located at Mission and Fremont Streets, at the base of the future Transit Center, the gondola operates from 8 am to 8 pm and there is no ticketing required. Website for updated hours and details >>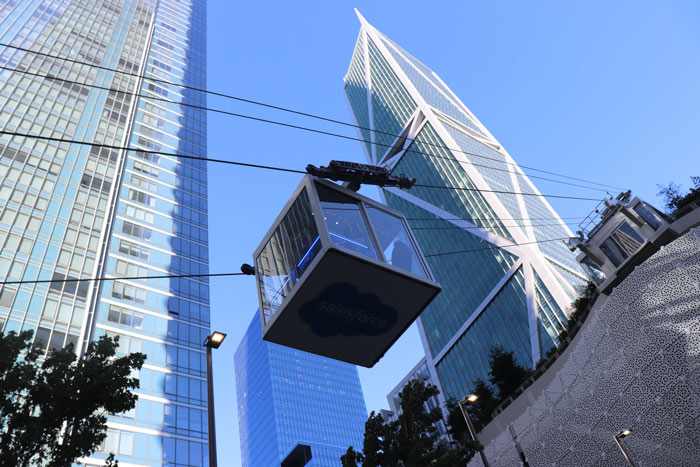 The short ride takes guests up to Salesforce Park, a beautifully landscaped rooftop garden with a strolling path, multiple play structures, access to restrooms, and abundant seating areas. The entire park sits a couple of stories above street level.
Community activities are on a schedule, including family-centric programming, such as drum circles and storytimes.
Several of our contributors have taken their children on this outing, where the only expense is either your BART fare or parking. One reader said, "Taking a double-decker Transbay bus and then going to this park has been the highlight of my 2-year old's life." Add Salesforce Park to your bucket list!
Tips for Visiting Salesforce Park in San Francisco
Be clear: the park is on top of the Salesforce Transit Center, not in or on the skyscraping Salesforce Tower.
If you take BART, you'll exit at Embarcadero and then take a five-minute walk to the corner of Fremont and Mission.
If you take a bus, you can get off right at the Transit Center. Find your way to the top to see the park!
Time your visit for toddler programming if you have little ones:

Toddler Tuesday: Tuesdays, 10 a.m. – 11 a.m.
Toddler Thursday: Thursday, 10:45 a.m. – 11:30 a.m.