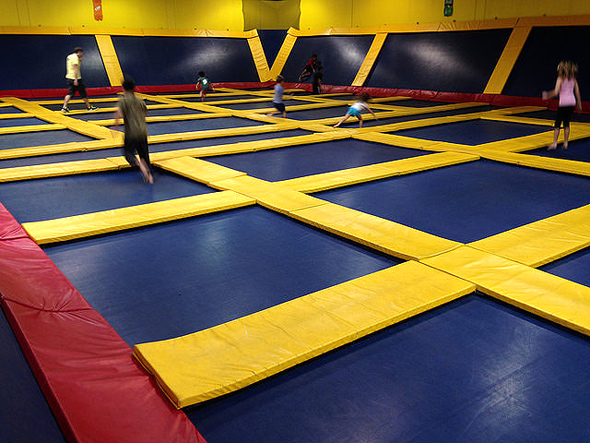 I took my kids, 7 and 9, to check out Sky High Sports, a trampoline park in Concord, and was surprised to see other 510 parents I recognized there, so my bottom line conclusion is that it is worth the drive.
35 minutes by car from North Berkeley, but just 20 minutes from Rockridge, this indoor play space is located in an office park-style destination.
Parents pay for their kids to jump: $12 first hour and $6 for additional hours, aka $18 per person for two hours. I easily found a Groupon for $12 for two hours but had to pay online in advance in order to use it.
Guests get a bracelet that indicates what time their admission expires. Each hour, the staff announces which color bracelets are no longer valid.
Parents should plan to jump if they are with one kid. Siblings who play together or friends will not need an adult to jump with them. There are a handful of cushy chairs for parents to sit in, and for a few dollars you can turn on the massage function in the chairs.
The main event is jumping on trampolines in either bare feet or grippy socks. There is a general trampoline area for all ages, and one that is specially reserved for children 8 and under. You can also swing on a rope and drop into a foam pit; run and jump onto a trampoline to bounce into the foam pit; or join a game of dodge ball in a trampoline area.
Rockin' Jump in Fremont and in Dublin are very similar facilities to Sky High, so I might map which of these three jumping places is closest to you. (Here's my review of the Dublin location.) For a child between 3 and 5, I recommend Rockin Jump where the protected zone for little kids is for 5 and under.
Sky High also offers birthday parties, which are surely a good time. Tables and chairs for eating are available just beyond the jumping zone, adjacent to a snack bar and a few arcade machines. The snack bar is standard junk food: candy, chips, pizza, pretzel, nachos and slushies. There are vending machines with bottled water and Gatorade. You may not bring your own food.
There are a few special prices and events on the Sky High weekly schedule: dedicated hours for special needs kids, toddlers, and homeschoolers. Put Sky High Sports on your list of places to go when school is closed, but note that the hours are most convenient for those Monday and Friday school closure days when it opens at 11 am. Tuesday through Thursday, Sky High is not open until 2 pm.