Thank you to Traverse Fitness for providing a birthday party experience for my family.
For East Bay families with energetic children over the age of 6 (turning 7 is the youngest!), the birthday parties at the enormous Traverse Fitness American Ninja Warrior warehouse can be a ton of fun with everybody leaving happy and exhausted at the end of 90 minutes.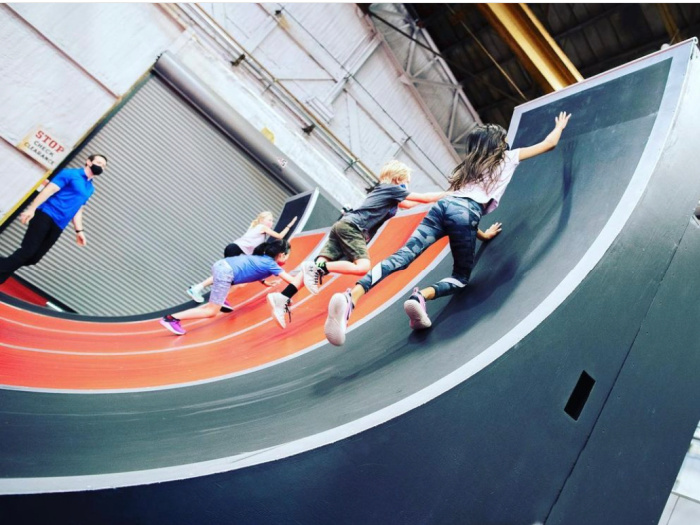 Traverse Fitness is an easy birthday party destination if you want the activity and the destination all rolled into one. Parents just supply the snacks and/or birthday dessert. Kids can stick together to attempt various challenges, race the various American Ninja Warrior courses for time, or try their favorite obstacle over and over 'til they get it just right.
What Traverse Fitness Provides For Ninja Warrior Birthday Parties
Traverse provides an incredible, enormous facility with expert American Ninja Warrior coaching. The coach led our group of 11 and 12-year-olds through some warm-ups, a safety briefing, and training on the warped wall before timing them in an obstacle course run-off.
After the guided portion of the party, the coach remained available to our group to answer all questions about obstacles and various techniques in the youth area of the gym. If you're already familiar with Traverse, you can request a special focus on certain obstacles.
What Parents Provide for Birthday Parties at Traverse
Parents bring the birthday dessert and any desired snacks or decorations. For a typical birthday party, you have the party space with 6 large tables reserved for the duration of your event, but you're only in it for the last 30 minutes. We bought cupcakes from Cupcakin' Bake Shop and let the kids drink from their own water bottles. The party next to us leveled up with more snacks and juice boxes for the kids.
(Look at the video above to see Sawyer run past the party areas for scale)
If you want to decorate, they're cool. Bring binder clips, zip ties, or twine to tie up your signs. Bring table cloths to beautify the plain tables (see photo above). Because the space itself has an exciting Ninja Warrior vibe, I skipped additional decorations. While I felt a wee pang of mom guilt for taking the easy way out, no children complained.
Browse other teen & tween birthday ideas or see our whole awesome East Bay Kids Birthday Party Guide!
Bottom Line on Birthday Parties at Traverse Fitness
The kids seemed to have a really good time with lots of physical challenges and laughs throughout our party time. I would strongly recommend it for tweens on up.
Party Pricing as of 9/14/22: Parties cost $250 for the first 5 participants, then $25 for each participant after that up to 25 total.
Party Timing: Traverse offers parties on weekends: Saturday afternoons or Sunday mornings and afternoons. Parties are 90 minutes.
Book your own birthday party at Traverse Fitness > 
Find out more about Traverse classes, camps, and more >
Thanks again to Traverse Fitness for providing a memorable birthday party experience for my family.