The Tilden Park Merry-Go-Round transforms every year into a magical winter wonderland, running every day from November 24 – January 7 except for Christmas Eve and Christmas Day.
Full of Christmas cheer, you'll find decorated trees, tiny nutcrackers on display, holiday tunes, and a Santa to whom you may whisper your wishes. This year they're also offering Breakfast with Santa. How cute is that?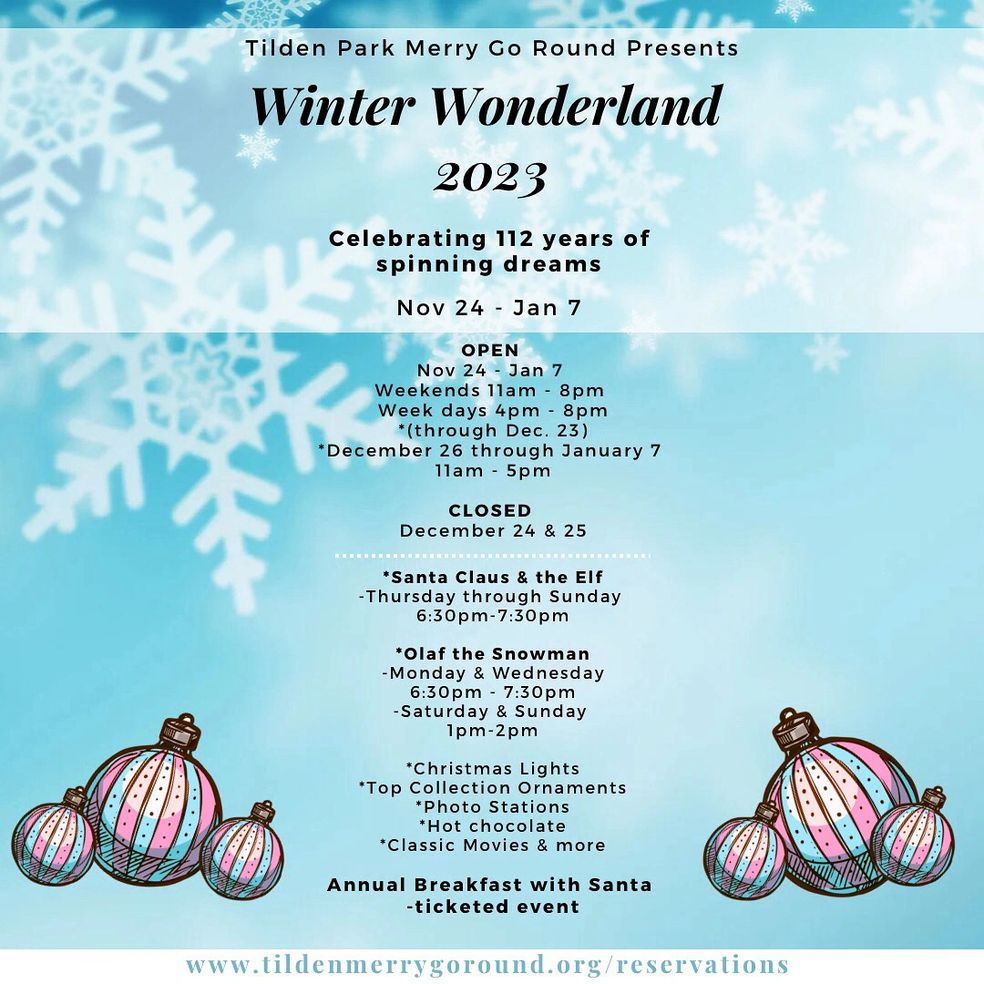 The Christmas Carousel is a perfect outing for the grandparents even if they don't like to ride along. Just keep waving!
Tilden Carousel Holiday Hours
The Carousel is open for Winter Wonderland November 24- January 7, on weekends, 11 pm – 8 pm, as well as Weekdays 4 pm – 8 pm. The Carousel is open the week of Christmas (though closed December 24/25), with times changing on December 26 – January 7, 11 am – 5 pm, with daily Santa visits from 6 pm – 7:30 pm. And remember, this is weather permitting, so if the weather is crummy, the Carousel might be closed. If you're not sure if they'll be open or if the Big Guy will be there, give them a call at (510) 559-1004 before schlepping all the way up the hill!
Reservations are encouraged, but not required. Buy tickets online beforehand, or at the ticket booth once you arrive. Rides for the Carousel are $4/ride or $24 for a 7-pack for everyone over age two. Decorations go up in mid-November, with plenty of twinkly lights, jolly trees, and inflatable holiday decor.
Be sure to check their website or their Instagram for the most up to date info on Santa and other special visitors.
Don't forget to stop in the snack bar for a seasonal treat. We opted for gingerbread cookies, but there's also hot cocoa, churros, ice cream, cotton candy, hot dogs, and pretzels – need I say more?
The Tilden Carousel is located at the intersection of Central Park Drive and Lake Anza road. Prepare for crowds, and lines, this place gets busy!
For more info on hours or Breakfast with Santa, visit the Merry Go Round website>