Glowfari offers hundreds of gigantic, larger-than-life, glowing Chinese lanterns set up throughout the Oakland Zoo to thrill your family. It runs from November 10, 2023, through January 28, 2024. Advance ticket purchase is required. Tickets will be offered on a rolling basis 28 days in advance.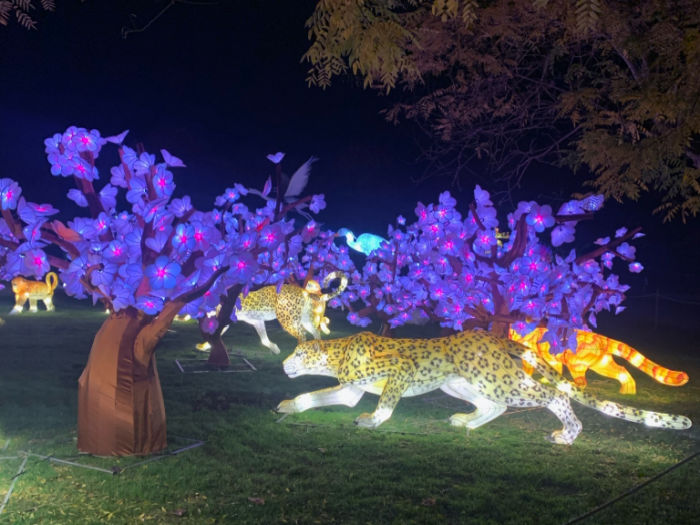 Walk the zoo grounds after hours with cool light-up sculptures at Glowfari
This family-friendly nighttime installation features hundreds of larger-than-life animal 'lanterns'. These special lanterns are not what you might take camping, they are art structures created out of delicate paper illuminated from within. Lit-up animal sculptures will be placed throughout the Zoo. If your family is like mine, you will alternate between squeals of joy and stunned silence.
Visitors walk about a mile through these very large illuminated and dazzling lanterns – from the ice-capped 15-foot tall penguin corridor to the breathtaking full-size elephants, giraffes, and lions – to the enormous, jellyfish arch floating against the star-filled night sky. Ride the lit-up gondola to visit California Trail – where undersea enchantments will wow even sullen teens (maybe).
Santa Claus will be there, too!
Visit Santa in the Rides Area Fridays – Sundays in November and every night December 1-23 from 6:00 pm to 9:30 pm (line closes at 9:15 pm). Please note, Santa's hours are subject to change and he may have to head back to the North Pole if it gets too wet.
Pro Tips about Exploring Glowfari with kids
Bundle Up! It's chilly up there at night and you don't want the cold to ruin your good time. This is the moment in the Bay Area to break out your coziest scarf and winter coat for the kids. A thermos of hot cocoa in the car for when you're done is good, too.
Go to the left once you enter. Starting in the ocean world and winding your way through everything else felt like the best path vs. going the other way. It literally feels like each corner you turn is a magic new world opening for you.
Save the gondola ride for last. The view is breathtaking, and the surprise "world" at the top is so epic it is a good finale to a really fun evening with the kids. Probably seals an early bedtime too 😉
Enjoy the interactivity! All of it is designed touchless – photo ops, stepping on things to cause a reaction makes for fun interactivity without needing to touch anything.
*Bonus tip: Order pizza in the parking lot. Order a hot pizza so it is delivered as soon as you get home so you have a hot meal waiting for your hungry family after all that fun.
Plan your visit to Glowfari. It is a separate event not included in regular Zoo membership.
Dates for Glowfari: From 5 pm to 9 pm on Nov. 10 through Jan. 28.
Prices for Glowfari: $26 adults | $22 children & seniors (2-14 & 65-75) | Children under 2 and adults over 76: Free (members save 10% or can look out for member deal days) | Parking is FREE.
Advance ticket purchase is required. Tickets on sale as of November 1.
[photos by Annie Reid and Tianyu Arts & Culture as noted]
xxx