Orinda– just one BART stop past Rockridge or a quick drive through the Caldecott Tunnel– is closer than you think. I like to think of this city as two stops: the first being Orinda Village and the second being Orinda Theatre Square. The village and square are on opposite sides of the freeway and are about a half a mile apart. You could definitely park at one and walk to the other, or drive to both like we did.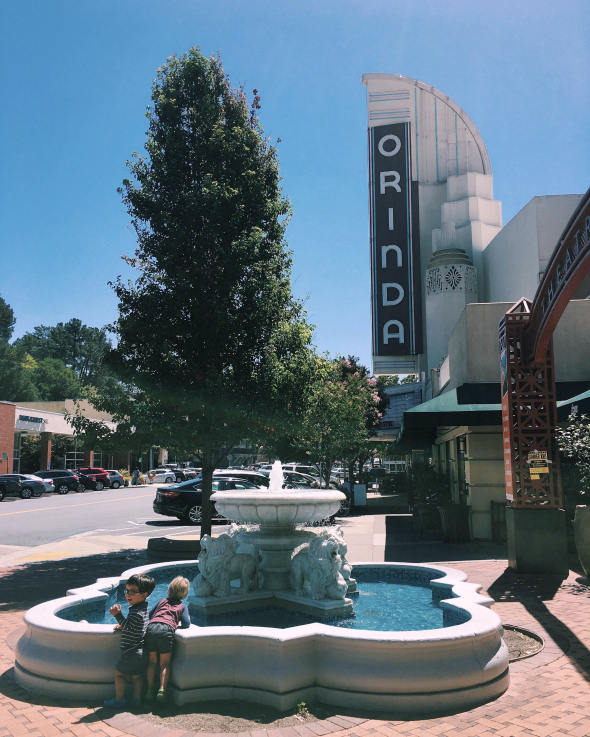 What to Do with Kids in Orinda Village
Start your morning at Orinda Village– park once and get a cafe, park, library, bookstore, and even a pizza joint if you make it until lunchtime. Here's a quick breakdown:
Play at Orinda Community Park: Big and beautiful. There are two play structures– one for older kids and one for younger kids– separated by a huge grassy field. The park is mostly fenced-in and has tennis courts and a paved path around that is perfect for scooters or bikes. We found a few donated toys (always a plus with my boys!) and bathrooms. Lots of trees provide good shade since it does get hot here (like consistently 10 degrees hotter than Berkeley every day) so be prepared.
Stop for a bite at Cafe Teatro: If you need your coffee early, stop here first. Just a few steps from the park (and the Orinda Library), this small coffee shop has outdoor seating, cool sculptures to examine, sweet and savory bites, and most importantly, caffeine! It's perfect.
Browse and Play at Orinda Books: This gem of a bookstore is just across the street from the park and a must if you're in the area! The kids' section has tiny chairs for reading, a toy house, cars, and even a lego table. I don't think I've ever spent so much time in a bookstore before– my kids were happily occupied. They host book readings from local authors and even have a weekly storytime every Thursday morning from 10am to 11am, AND they gave us Eric Carle and Spot tattoos when we left. We will be back.
Grab a slice at Village Pizza: I can't speak for this personally, but if your toddler is STARVING and can't make the 2-minute car ride to the Theatre Square, then pizza is always an option. Village Pizza has been serving Orinda since 1984 and is the perfect way to satisfy a hangry kiddo. Check out our guide to the Best Pizza in the East Bay for Families >
Guide to Orinda Theatre Square with Kids
Next stop, Orinda Theatre Square— the hub of this city boasting plenty of stores and restaurants for food, yummy treats, coffee, and entertainment.
Coffee: Need more caffeine? Find Peet's and Starbucks here. Starbucks is near the water fountain, so it was our pick since water fountain = our kids' free entertainment.
Dining: Almost every restaurant in the square has outdoor patio seating. Take your pick from Mediterranean food, burgers (plus beer and live music), and lots more. Do a quick walk-through to see what suits you.
Sweet Treats: Pie or ice cream? You choose. We chose ice cream and I'm glad we did. Loard's was so cute. Bright pink and white, old time tables, and vintage photos. We devoured our chocolate scoops in the corner booth. Love ice cream? Check out our Favorite Ice Cream Spots for East Bay Families >
Entertainment: Don't forget the movies! It's the square's namesake after all. Orinda Theatre shows new movies with a nostalgic feel. Catch a kid-friendly flick during your visit.
Orinda: check it out. You'll be glad you did.