Your 45 minutes in the car will be rewarded with a very appealing kid-friendly cool-off at Antioch Water Park. And during the summer, a foggy Oakland should still mean a HOT HOT HOT Antioch. We love it for mixed-age families. Opening Memorial Day Weekend (May 28) for the 2022 season.
What is awesome about Antioch Water Park and Aquatic Center:
Water activities for babies and every age on up: five water slides including a super-shallow tot pool, toddler and preschooler waterslide, big kid slides.
Lots of lifeguards and life vests. Yes, it gets crowded, but I felt very safe with the dozens of red-and-white-clad lifeguards and gazillion life vests.
Clean and pretty. I thought the park was quite new based on its well-kept appearance, but I heard it's at least a dozen years old.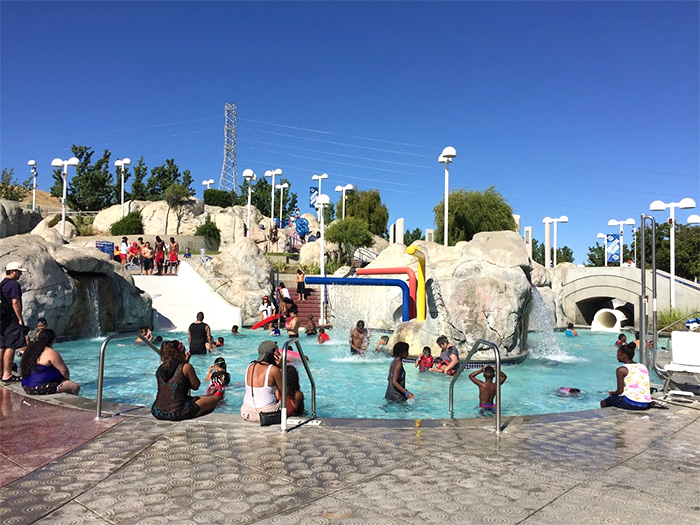 What to expect at Antioch's Waterpark 
It's pricey but only compared to standard public swimming pools. Kids under 30″ are FREE. $14 per person over 30″ is a fair price, but you'll want to stay all day. (It's $2 more per person on weekends, too!) If you think you'll go frequently, the membership is worth it. (Weekdays, afternoons, and group rates are cheaper). On the other hand, it's far more affordable and a fraction of the price compared to Hurricane Harbor in Concord.
Check the hours before heading out >
Wristbands are handed out based on height to restrict the littlest ones from going on the bigger slides and vice versa. Kids must be taller than 30″ for the toddler-friendly otter slide (and up to 48″); between 42″ and 48″ kids can ride all slides with a life vest except the body slide; taller than 48″ people can ride all slides but the otter slide. Short kids might be frustrated by the life vest rule. We had a 7-year-old who was a strong swimmer but had to wear a life vest and didn't like it one bit.
Pro tip: Go with similar height friends to reduce conflicts.
Outside food is allowed.  There are shady trees, tables, and even a couple BBQs set up for this purpose, both outside and inside the entrance. There's also a snack bar inside to supplement, and they sell goggles, sunscreen, and other necessities. Alcohol is not allowed and bags will be checked upon entrance.
Swimwear is required. To keep the slides and facilities in good condition, street clothes, cut-off jeans, and anything with rivets and buttons that may scratch the slides is not allowed.
Shade is limited. There are a few awnings and ample space to bring your own jumbo umbrella to set up. A large grassy field inside the complex was home to several mammoth shade tents (brilliant idea to BYO!).
Seating gets snapped up quickly. There are several chaise lounge chairs, but you are also welcome to bring your own.
The concession stand has loads of frozen ice cream and popsicle treats for hot swimmers.
Confirm hours and details on the website hosted by the City of Antioch. You can also buy tickets in advance.
[photo of slide by Richard Wisdom, second one by Heather Flett, all the rest, Whitney Moss. all rights reserved]