It's well established that the best place to see holiday lights in the East Bay is in Alameda. It's well worth the drive and exercise of parking (not usually too bad), to see the lights that make the 3200 block of Thompson Ave feel so special.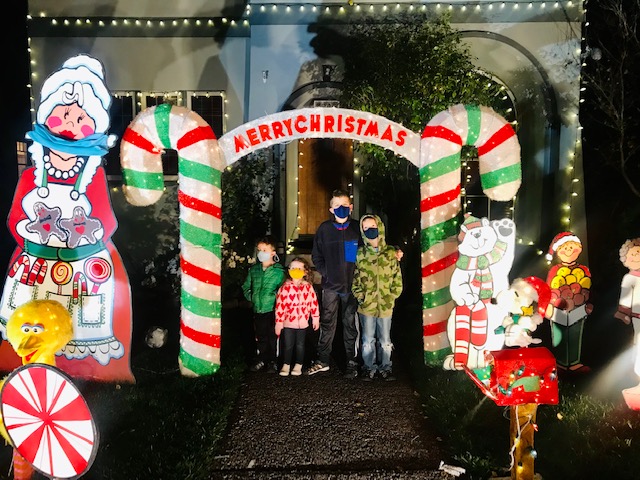 The houses and median will be lit up and you don't want to miss it. Plan to park (either on Thompson Avenue or a nearby side street) and walk the length of the block and back again.
This nightly event runs from Sunday, December 4, 2022, through New Year's Eve.
Look for the mailbox available for letters to be dropped off. Letters with legible return addresses will still go to the North Pole for a reply from Santa himself!
(Related: Where to mail letters to Santa in the East Bay >)
It can get pretty crowded on weekends, so if you can, try to come on a weekday evening. We visited on a Monday around 6:30 pm this year and it was much more low-key and easier to linger in front of our favorite houses without feeling crowds push us along. Swing by a coffee shop on your way for a cup of hot cocoa to keep warm while you stroll along the Christmas paradise.
We spied so many favorite characters, including an oversize Grinch, Paw Patrol pups, Star Wars and of course Snoopy and his friends. One house really went all out, with Santa's Elves working diligently moving gifts along a functioning conveyor belt. These are homemade, highly detailed figures and scenes that you cannot buy at Target, people. One house even has a light show timed to music with a Nutcracker theme, which was a real favorite with my kids. Another house has a life-size dancing hula Santa.
The lights will be on through New Year's Eve from 5:30 – 10 pm. Bring your camera and your Christmas spirit!
Fans of this ignited form of Christmas cheer can follow special announcements on the Christmas Tree Lane Facebook page.
Read next: Where to find the best holiday lights in the Bay Area and our massive guide to holiday activities for East Bay families >>
Did you just discover 510Families.com? Follow us on Instagram to stay updated.
xxx