San Francisco's Golden Gate Park has so many family-friendly activities— you can explore the Cal Academy of Sciences, visit the Conservatory of Flowers, or sip tea at the Japanese Tea Garden. But the Koret Children's Quarter holds a special place in our family's heart with its mix of nostalgic features I visited as a child, like the cement slides and carousel, and newer playground structures.
Koret Park Features
Location: 320 Bowling Green Drive, between John F. Kennedy Drive and Martin Luther King Jr. Drive.
Unique Features: Concrete slides, large rope structure, and carousel.
Swings: Regular and toddler. We love that it's separate enough from the playground area that you don't have to worry about swinging kids knocking into other non-swinging kids (at least, not as much).
Fenced in? No, it can be easy to lose sight of the kids if you aren't keeping a close eye.
Surfaces: Sand and rubber.
Bathroom: Yes, but you'll have to walk past the carousel and up a small hill to get there.
Lunch tables & seating: Not much in terms of tables, but plenty of grassy space for spreading out a picnic blanket.
Parking: Mostly street (free) parking around golden gate park. There is also a small parking lot near the SF Lawn Bowling Club that is adjacent to the park.
Shade: There are trees bordering the park area that provide shade, but not much shade in the main park area.
Pros: Lots of space to run around with many different types of activities. A mix of nostalgic and new.
Cons: Requires a careful eye with younger kids (or if you have multiple kids), especially those who are prone to run off on their own.
Features of the Golden Gate Park playground area
Koret Children's Quarter is nestled in the Southwest corner of Golden Gate park near the San Francisco Lawn Bowling Club and is adjacent to a large grassy field. The playground area consists of a few sections: a large playset near a towering rope climbing web structure, a sand pit area, a large wave sculpture to run around in, a few swing sets, and the infamous cement slides. There's plenty of room to space out from other kids and to explore, even on busy weekends.
My five-year-old daughter's favorite activity is the rope structure. It's the tallest one I've ever seen at a children's park. And my daughter is brazen. I usually have to bite my tongue from yelling out the unhelpful "be careful!" warning as she quickly scurries up to the tippy top of the rope tower. But I get the appeal. What kid can resist climbing this web?
I also like how the rope web structure is right next to the playground so that kids can easily go from one activity to the other
The cement slides are a San Francisco treasure and I recall zooming down them as a child. There are usually cardboard pieces scattered around for kids to use for the slides. But it doesn't hurt to bring a spare piece of cardboard in case it's particularly crowded that day. The slide can be daunting at first for little ones, so it's not uncommon to see younger kids sit on their parent's laps to zoom down.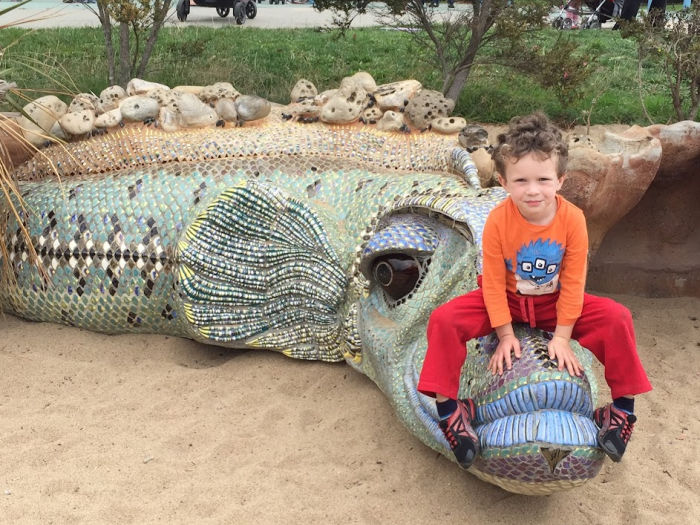 Historic Carousel in Golden Gate Park
The historic and classic carousel is adjacent to the playground and has been in Golden Gate park since the 1940s. We love that we can easily switch from the playground to ride on the carousel and back to the playground again. The carousel x playground combo is also a great spot for birthday parties. There is a small barnyard between the two that is available for rent and is close enough to provide the best of both worlds.
The carousel has about 60 or so animals to ride and a few stationary seated ones. It's a fun ride for all kids — and parents, too.
If you are adventurous and want to delight the kids, there are surrey bike rentals nearby that you can rent and ride around the park, playground, and carousel. But be warned, it is a workout. Especially if you're riding with a bunch of kids who are not yet tall or old enough to petal.  Be prepared to sweat.
Plan your visit to the Golden Gate Park Carousel & Playground
Ticket Prices: $2/adults, $1/6-12 years, under 5 free with paying adult.
Carousel Hours: From Memorial Day through Labor Day (Sat/Sun, 10 am – 6 pm; Mon-Fri, 10:30 am – 5 pm). From the day after Labor Day through the day before Memorial Day (Sat/Sun, 10 am – 5 pm; Fri, 10:30 am – 4 pm).  You can also call 415-231-0077 to hear a recorded message to check the current status and schedule. Check the carousel schedule for its holiday schedule to ensure it's open when you want to visit.
Parking: You'll have to drive around and find a spot somewhere in the park. Each time we've visited, it hasn't taken us too long to find a free spot on the street (though there may be a little walking required).
Snacks. There's a snack kiosk right next to the carousel where you can also purchase tickets.