If you happen to be headed south down the coast on a Sunday, maybe to visit the Monterey Bay Aquarium, I highly recommend the Sunday Brunch at Mission Ranch. It's a quick, yet scenic 15 minute drive from Monterey.
Mission Ranch Restaurant & Hotel
Mission Ranch is in fact both a hotel and a restaurant, that used to be a dairy farm. Another fun fact, it's also owned by Clint Eastwood, who at one point was the mayor of Carmel. BUT getting to the fun stuff: Mission Ranch hosts a buffet style brunch every Sunday from 10am-1:30pm. The traditional brunch has a ton of kid-friendly foods. The lines are the most busy right at 10am, so if you want to hold off until closer to lunch time, you'll have a better chance of snagging a seat on their epic patio. "Why?" might you ask? SHEEP.
The sheep at Mission Ranch are an attraction on their own. They graze in a picture-perfect pasture and are seriously the fluffiest, happiest sheep I have ever encountered, in my whole life. Think cute overload: sheep edition.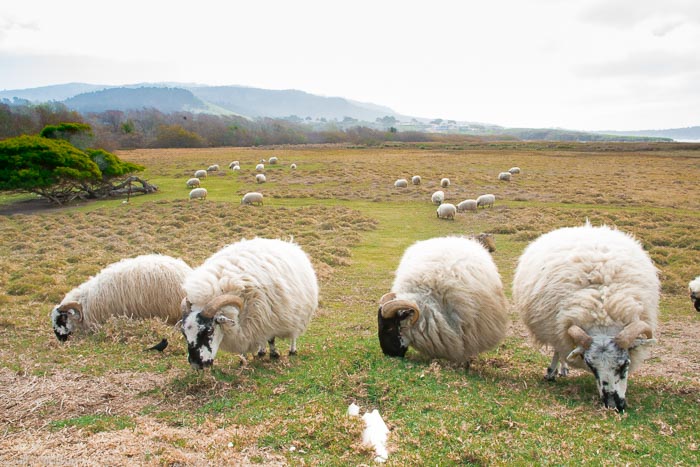 The restaurant does not accept reservations, but with an expansive 22 acre property and views of the ocean, there is plenty of beauty to explore while you wait for a table.
If you plan to dawdle around the fairytale-esque Carmel for the day, here are some other fun facts: there are no street addresses or high heels allowed!
Plan your visit to Mission Ranch in Carmel-by-the-Sea
Mission Ranch is located at 26270 Dolores St, Carmel-by-the-Sea, CA 93923
I recommend layers if you plan to sit outside on the patio (and you will want to!)
Phone: (831) 624-6436
Sunday Brunch Seating Hours: 10 am to 1:30 pm
Cost: Adults $45, Children $20 (ages 4-10) *includes one glass of Champagne or juice