I hate to be cold, which means as much as I've tried, I don't truly love camping in Northern California. Or, let's be honest, anywhere. But a few months ago, I reserved an Airstream at the KOA campground in Watsonville, CA, and my family and I had a fantastic getaway.
Watsonville is nestled between Santa Cruz and Monterey, where there are plenty of attractions, but for my kids, just being at the campground was a thrill. There is a heated swimming pool, a playground, "banana bikes" for rent, and a huge jumping pillow.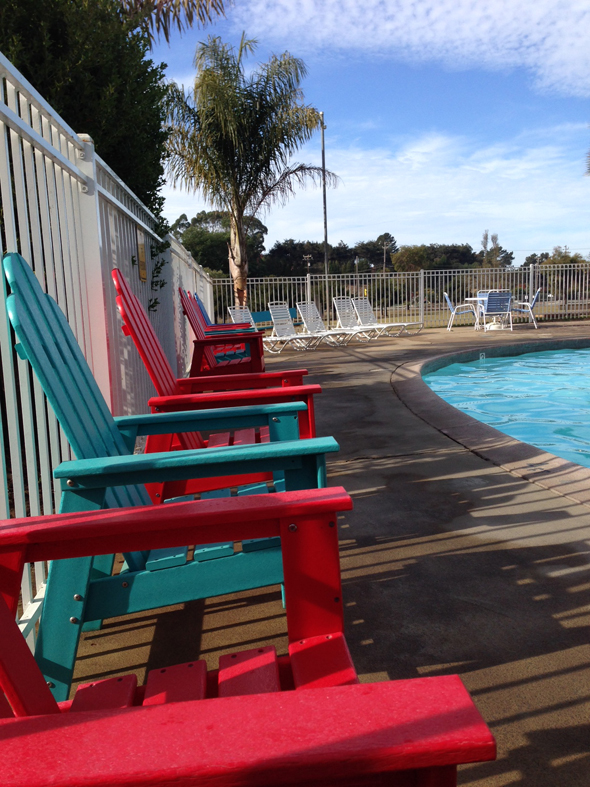 We drove down on a Saturday and unloaded our food into the tiny kitchen of the Airstream.  There are also minimalist cabins of various shapes and sizes, so this destination is ideal for a multi-family getaway for those who don't want to set up tents. Parents can socialize while kids jump, climb, and roll around the campground.
Our little patio included a table and chairs, and a firepit. When I walked over to the general store/check-in desk to purchase wood, they asked if I wanted someone to drop it off. Yes, please! Ten minutes later, a staffer zipped by in a golf cart and left me a bundle of wood.
The Airstream has a "bedroom" with a double bed, a stall shower, a kitchen, including microwave and electric burners, and the dining table seating area transforms into two twin beds at night. There's even cable TV and supposedly Internet, but we never did log in successfully. Best of all, a heating unit keeps you cozy at night.
For hardcore lovers of the outdoors, this campground is not for you. I don't think there's hiking access from the campsite. But for a family of four (parties of five will need to stay in a cabin or co-sleep with their littlest), I recommend this no-flying vacation. The cost is similar to a hotel — not the same as a camping trip, but the novelty is as great as what I've paid top dollar for at Legoland or Northstar ski resort. Prices vary by season and weekend.
Check the KOA camping website here>
Other Activities near Watsonville