Book ahead for a summertime camping trip. We have camped with our kids at a variety of Bay Area campsites, from regional parks to rustic cabins, and each place has had its own special charm — plus some things that were a bit less charming about them too. Here's a round-up of camping spots in Northern California along with some useful links to weekend excursions that are like camping, all selected with parents in mind.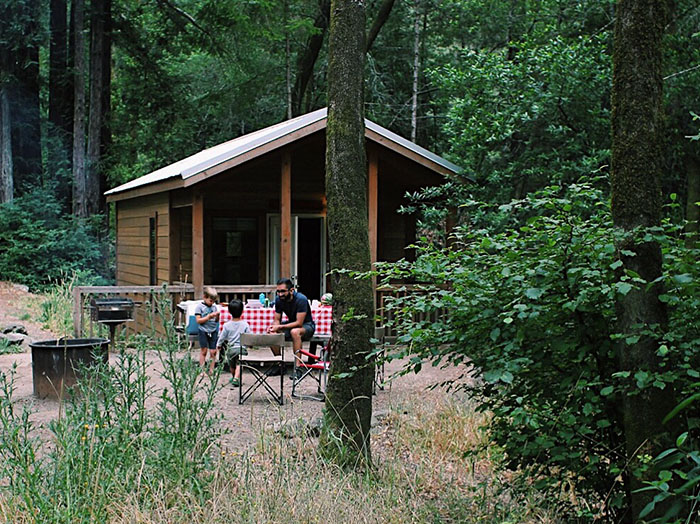 Where to Camp with Kids in the Bay Area
Thanks to contributors Rebecca Matthews, Anna Azimi, Whitney Moss, and Heather Flett for sharing these detailed experiences.
Lake Chabot, Anthony Chabot Regional Park, Oakland (East Bay Regional Park)
You can camp in Oakland! Anthony Chabot Regional Park is just about 20 minutes away from Downtown Oakland. They have car camping sites as well as short-distance walk-in sites overlooking Lake Chabot. You will even find options for large groups! The campsites are nice and a good distance away from each other. There is a fire pit at each campsite. There's a lot to do at Lake Chabot for a family.
Pros:
Great hiking and nice views.
Very close to home.
Dog-friendly for an extra charge.
Inexpensive, hike-in sites are $25/night.
Cons:
Decent bathrooms (some are new and others are eww).
You can still hear the city (airplanes, loud vehicles, and helicopters).
No playground.
Bring your own firewood.
Book your own campsite at Chabot Regional Park >
Related: Discover The East Bay's Newest Campground: Dumbarton Quarry Campground >>
New Woodland, Tilden Park, Berkeley (East Bay Regional Parks, Tilden)
New Woodland is tucked up behind Little Farm in Berkeley, just 15 minutes from our home. It is a group campsite that can hold a minimum of 11 campers, but a maximum of 50 campers, so consider this one for your preschool posse or scout troop. There are no fancy showers or concession stands near, but the site does have two onsite, relatively clean, chemical toilets and a water spigot. There are plenty of picnic benches, fire pits, and grills for all eating and s'mores needs. Wild turkeys and the fact that it's right behind Little Farm are an added plus for child entertainment. If you go, make sure to bring celery to feed the animals to keep the kiddos happy.
Pros:
So close to home it makes me giddy.
Can have all your pals and only your pals enjoy the camping experience. Fantastic for children!
Little Farm and the playground next to it are just down the path. There is also a lot more to do for families in Tilden Park.
Great hiking all around.
Inexpensive! The site is only about $85 and if you divide that by how many families are in your party, it's almost like camping for free!
Since it's so close to home, you can make the camping trip as easy (bring food from civilization and just heat it up) or as difficult (make an outdoor feast) as you want.
Cons:
Bring your own commercially bought firewood (to fight the spread of tree disease).
No dogs.
No alcohol. Ahem, by the way, we did not have any visits from rangers.
No cell reception at all.
No flush toilets.
To reserve a large group spot in Tilden Park, call East Bay Regional Park District Reservations Department at 1-888-327-2757; full payment is due at the time of booking.
Also look into Gillespie, a group campsite in Tilden Park that does allow dogs, closer to the steam trains.
Mount Diablo State Park, Walnut Creek
This gem is located just about a half-hour away in Walnut Creek if you enter through the North Gate or Danville if you enter from the South Gate. We only tent camped and as far as I can tell there are no RV spots. This campground offers fantastic views of the bay if you hike up to the summit or you can hike over to Rock City and crawl in caves with your kiddos. This was one of my favorite spots. It really felt like adventuring.
Pros:
Super adventurous and fun hiking with breathtaking views, supposedly you can see Half Dome on a clear day from the summit with binoculars. But I'll have to take their word for it.
Relatively inexpensive at about $38/night.
Dogs are allowed in developed areas.
Firepit at each site. Bring your own wood.
Free showers in certain areas (Juniper Campground).
Observation deck with telescopes.
Cons:
It gets really hot and there is no water to play in. Dry climate – drink water!
Gates close promptly at sunset each day, so arrive before sunset!
Reserve a campsite at Mount Diablo >
River Bend Resort, Forestville
River Bend Resort is a great campsite located near Santa Rosa. Very friendly folks with a river to cool off in because when we went it was hot hot hot! You can camp in tents, RVs, cottages, or an adorable vintage VW bus. Each campsite has its own fire pit. Check out Burke's Canoes while you're there >
Pros:
Some car campsites, some walk-in sites (the walk is not far).
Clean river to cool off in with a beach and rocks to dive off of.
Pay showers, pay laundry, nice bathrooms a little walk away from the campsites.
Arcade and two playgrounds on-site.
Small office with a few food and necessities for sale.
Dog-friendly.
Cons:
Must provide your own firewood.
Some of the sites on the edge of the river were a bit eroded.
Can get a bit crowded as the campsites are not far apart.
The walk to the river is not super close, but not ridiculously far either.
Because it is dog-friendly there are a lot of dogs. Some bark at very unfriendly times.
Reserve a spot at River Bend Resort >
Samuel P. Taylor State Park, Lagunitas
Located 30 minutes west of San Rafael, Samuel P. Taylor's campground is a favorite of my family. Immersive redwood trees surround this car camping spot and a day trip to Point Reyes is within easy reach. Walk to easy hiking trails from the campground.
Pros:
Redwood grove to play in
Paved road for bikes, scooters, or strollers
Easy-to-use facilities
Dense trees provide plenty of shade
Close to Point Reyes National Seashore and beaches along Tomales Bay
Short drive to grocery stores and restaurants in nearby towns Lagunitas or Point Reyes Station
Cons:
Poison oak
Some sites are small or very close together
Some sites are close enough to Sir Francis Drake Blvd that you can hear the rush of the highway
Lagunitas Creek is a protected spawning run for salmon and is closed during certain parts of the year
Reserve a spot at Samuel P. Taylor >
China Camp State Park, San Rafael
Situated along San Pablo Bay in San Rafael, China Camp State Park is an easy drive from the East Bay. It's a good choice for families who are new to camping or for one-night adventures. The campground only supports tent camping and it is far from any road noises. This state park may not be the most exciting in the Bay Area, but it features a little beach with kid-friendly calm waters. Our family likes to go here when we're in the mood for a quick camping trip.
Pros:
Largely shaded
Easy-to-use facilities
Firewood available for purchase
Close to East Bay
Beach is tot-friendly
Water spigots on site
Easy to get a last-minute reservation
Cons:
Tent-only sites are hike-in (there are some bins to help you carry in your supplies)
It can get hot here – stay hydrated!
Wasps can be plentiful during the summer months
Reserve a spot at China Camp State Park >
Related: Read about more cabins at Bay Area campgrounds >
Costanoa Campground (KOA), Costanoa
Costanoa is near the town of Pescadero, across the street from the beach. There are one-room cabins you can rent; an open field in which you can pitch a tent; and, accommodations for RVs. They have a lodge to hang out in, with saunas as well as a restaurant and a general store. They also rent bikes and host many activities for extra fees. This place was okay. I think if we went back, I'd go the "Glamping" route and get a little cabin and do less cooking. There is a cool Goat Farm (Harley Goat Farm); three U-pick Strawberry Farms and Lemos Farm pretty near too, if you are looking for a day trip away.
Pros:
Don't have to cook if you don't want to: go to the on-site restaurant. We only did this for breakfast.
Close to the beach, just walk across the street. The kids LOVED playing in the waves and tide pools.
Playgrounds.
You can rent bikes or make reservations for a host of activities at their activity tent. They even have a day camp for older kids.
Can buy anything you forgot at their store.
Nice bathrooms with hot showers.
Inexpensive, for field camping it was $44/night.
Cons:
Foggy and cold when we went in July.
No fire pits at the sites, need to use communal sites near the bathrooms. This also goes to say that you can't cook at your campsite, either, so you need to lug all of your stuff to the communal grills.
Can get packed in when tent camping in the field. Our youngest had a crying fit in the middle of the night and our neighbors verbally let us know how unhappy they were about it.
Dogs only allowed in the RV area.
Good luck reserving a tent spot in Costanoa!
Choose a different kind of glamping spot in Mendocino >>
More kid-friendly camping beyond the Bay Area
There are so many camping options in California. Camping at State Parks is very convenient for families because the ground and facilities are well maintained (bathrooms cleaned daily!), and there are often trailheads nearby, visitor centers to visit or junior ranger programs offered. National Parks, National Forests, and county parks also offer nice camping options.
Humboldt Redwoods State Park, Weott
About 4 hours north of Berkeley is a redwood forest wonderland: Humboldt Redwoods State Park. Our family camped at the Burlington campsite and loved every moment. It's located right next to the visitor center and campfire center, which offers kid-friendly programing. Take hikes through old-grown redwood forests or along the river.
Pros:
Redwoods provide plenty of shade and keep temperatures cool
Clean, easy-to-use facilities
Firewood available for purchase
Water spigots on site
Hiking trails begin near campsites
Limited cell reception
Cons:
Some road noise from traffic
Some campsites are cramped
Despite redwoods' shade, temperatures can reach high 90s during summer months
No water play because Eel River often has toxic bacteria
Learn more about campsites at Humboldt Redwoods State Park >
Big Bend Lodge, Leggett (Privately Owned)
This one is not exactly camping per se, but it scratches the same itch — and our family loved it. Located a little over 3 hours away from the Bay Area, this place was fantastic. You stay in little two-room cabins with full bathrooms and kitchens, which include a stove and a refrigerator. The cabins even have heat, though we didn't use it. It's located just next to the Eel River for fun and fishing. There is so much for the kids to explore there and a lot of fun touches too. Chickens to feed, a tire swing, a little trapeze, rock stacking, frog catching, etc. We would love to return to this location.
Pros:
Beds for kids to nap in and parents to sleep in at night.
A kitchen and a shower.
A river to swim and explore in.
Free firewood.
Toys and water equipment are available to play with.
Chickens to feed and swings to play on.
Great way to spend time with multiple families.
Close to the drive-thru tree in Leggett for a quick day trip.
Dog-friendly.
Cons:
No tent camping.
No good hiking on-site.
Pretty much no cell reception.
A little pricey at $149/night with a two-night minimum, extra for dogs.
Book your own cabin at Big Bend Lodge >
Emerald Bay State Park, South Lake Tahoe
Our family loves tent camping here because we have access to the lake, trails, and beautiful views. It's an affordable way to experience Lake Tahoe in the summer. Reserving a site can be challenging but so worth it!
Pros: 
Access to lake, trails, vista views from the campground
Most sites are partly shaded
Premium view options available
Firewood sold on site
Water spigots
Clean and easy-to-use facilities
Trail from the campground to Vikingholm was doable for my 5-year old; kids loved playing in the shallow waters
Limited cell reception
Cons:
Some sites have stairs
Bears are common in the area; no scented products are allowed
The highly desirable location makes it difficult to book a site
Learn about Emerald Bay State Park >
Morro Strand State Beach Campground, Morro Bay
If you're seeking a beach camping experience, my family enjoys pitching a tent at Morro Strand State Beach Campground. The campsites are just steps away from the beach and you can fall asleep listening to the waves. There's a seasonal trolley that travels between the campsite and downtown Morro Bay on weekends so you can also spend time in town. There are several cute beach towns and outdoorsy destinations a short drive away, making it a convenient jumping off spot for families on a budget. It's located along the Central Coast, which may be a long haul for some families.
Pros: 
The beach provides endless entertainment — bring beach toys and look for sand dollars or shells
Firewood sold on site
Water spigots
Clean and easy-to-use facilities
Tent and RV-friendly sites available
Cons:
Some campsites aren't on the beach, so pay attention to the map when reserving a space.
Sand will get everywhere.
Water may be too cold or rough for swimming.
Don't confuse with Morro Beach State Park. The campground is about a mile north of it, and smartphones can easily direct you to the incorrect destination.
Little shade
Learn about Morro Strand State Beach >
Family-Friendly RV Park Camping and Glamping
If you don't mind an RV park, there are some options with spaces for tents, cabins to rent, and even airstreams that you can sleep in. However, the vibe is more like a village than a campground: it is densely packed with campers. Fun for kids, not for nature-lovers.
Watsonville KOA – we slept in an Airstream at this site, a short drive to Santa Cruz and to Monterey for daytime activities. See our post about camping in an Airstream >
Jellystone Park – we stayed in a cabin at this multi-level site. The next day we rented boats and paddleboards on the delta. A massive pool and water play area is installed at this campground.
Petaluma KOA – all the ease of a KOA, with attractions for kids like a pool, climbing wall, and daily programming. See details at Petaluma KOA website >
Ventana Big Sur – enjoy the beauty of Big Sur in camping or glamping accommodations at Ventana. We've never visited but it sounds amazing. Get more details >
AutoCamp – These Insta-famous Airstream glamping sites offer access to nature with warm, comfy sleeping arrangements. The Airstreams are cozy and don't accommodate large families. Check out California locations near Sonoma, Yosemite, and Joshua Tree. Learn more about AutoCamp >
Camping tips for families
Campgrounds can have restrictions around wood-burning fires, especially during late summer and fall. This can put a damper on making s'mores and other campfire cooking plans. Check with your campsite host in advance and pack propane grill and tanks as an alternative.
Bring your own water. Even if a campground has water spigots, it's a good idea to have a gallon per person per day.
Plan in advance. State campsites can be booked 6 months in advance and often sell out within hours.
Accept and embrace the mess. Camping is usually a dirty activity, especially with kids. Plan to give little ones a bath when you return home and enjoy the fresh air.
Consider renting equipment if you're new to camping. Sports Basement and REI offer affordable, high-quality rental options.
Bring pack-and-plays for babies to sleep in and cots for toddlers, or whatever you'd use for your child to sleep in if your family was staying at a hotel. Travel cribs fit best in 4-person tents or larger.
Keep in mind that dogs may be permitted in campgrounds, but not allowed in nearby beaches or trails. Think through how you'll spend time before bringing your furry friends.
Use tools like Campsitephotos.com to see images of campground sites and receive tips for best campsites. It's never steered our family wrong.
The Bottom Line on Camping with Kids
Camping with kids isn't always easy, but it's worth the effort to make core memories. There's an abundance of campsites throughout the larger Bay Area. If you're searching for somewhere new to explore, consider: