Hike with kids through the University of California Botanical Garden in Berkeley to explore over 10,000 plants from around the world. The garden is filled with winding paths, stairs, and hills to transform your visit into a nature-based adventure.
What is awesome about UC Botanical Garden:
The botanical garden at Cal is nestled in Strawberry Canyon about halfway between the football stadium and Lawrence Hall of Science. It's utterly gorgeous and the terrain keeps things interesting for a hike with kids. Climb up the stairs, run down the tree covered paths, and venture past plants from nearly every corner of the world. The paths can be steep at times and some stairs are made from stone; keep little ones within arms reach to prevent stumbles. Children who are sure-footed, or in a baby carrier, will do best here.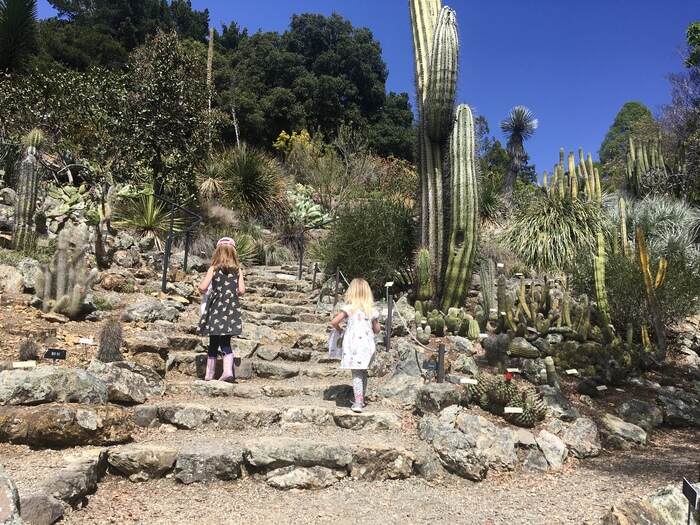 Of course, there are plants, but there are also so many animals in the garden. It's a real treat to stumble upon them. During our springtime visit, California newts were migrating through Tilden Park. We saw several newts swimming in the Japanese garden pond. We also spotted dozens of hummingbirds, lizards, pollinators, and even two banana slugs in the Redwood Grove (my kids' favorite!).
The UC Botanical Garden has been in its current location for nearly 100 years, which means some plants are supersized. My kids were amazed by a gigantic cactus and palm trees.
Find more East Bay gardens to enjoy with kids >>
The Redwood Grove features an amphitheater and is arguably the most beautiful setting for a performance. Although concerts in the grove are on hold, kids can take center stage during a visit. Sing, dance, twirl or climb up the rows of the amphitheater for some easy fun.
Seasonal Highlights in the UC Botanical Garden
I love going to Bay Area gardens because there's never a bad time to visit. UC Botanical Garden features flora from six continents so there's always something in bloom. Plus, a diverse mix of fauna living in or traveling through the area adds to the fun. Here are just a handful of features to see during your visit whether you're on a hike with kids, nature journaling, or just seeking a peaceful picnic destination:
Springtime visits to Berkeley's UC Botanical Garden
Located in a far corner of the garden, hike with kids to look for unique blue-green colored flowers in bloom on Puya plants. The garden has signs to help make this into a treasure-hunt style search.
Summertime highlights at the UC Botanical Garden 
Roses are blooming from spring to summer; visit the rose garden to see nearly every color of the rainbow. My kids enjoy playing in what they call the "rose tunnel", a trellis covered in climbing roses.
Fall favorites at the UC Botanical Garden in Berkeley
Enjoy colorful foliage in the Japanese garden and watch squirrels collect acorns from the Oak trees. Butterflies are plentiful in the garden during autumn months, especially monarchs.
Wintertime at the Botanical Garden
Magnolias are the stars of winter. There are so many blooming around the Bay Area in February and March, and the UC Botanical Garden collection doesn't disappoint. Rains prompt newts to migrate and many end up in the Japanese garden pond. Visitors can easily see them swimming around, crawling on rocks, and mating from late winter into spring.
Year-round highlights at UC Berkeley's Botanical Garden 
Multiple greenhouses showcase a variety of unique plants including cacti, orchids, and carnivorous plants (a favorite of my kids).
The redwood grove is a pristine gem. The paths are well kept and bordered by redwood sorrel. Towering redwoods keep things cool throughout the year. The grove is located near the parking lot, separate from the rest of the garden. The gate requires a code for entry so be sure to ask for it when you check in at the ticket booth. A must-see!
Plan Your Visit to UC Botanical Garden at Berkeley
Location: 200 Centennial Drive, Berkeley
Hours: Open daily: Members Hour, 9 – 10 am; General Admission, 10 am – 5 pm. Closed First and Third Tuesday of each month.
Cost: Adults $15, Seniors (65+) and Non-UCB Students $12; Juniors (7-17 years) $7; Members, UCB Students and Children 6 years and under are Free
Parking: Parking lot is available across the street from the main entrance; $1 per hour. Shuttles available to overflow parking lot, around UCB campus or Downtown Berkeley. Football games can close road to garden. Learn more about parking and getting to the garden >
Covid-19: Masks recommended for ages 2+ and unvaccinated for indoor settings
Stroller Friendly: Largely no. There is one paved road and a few packed gravel pathways, but much of the garden is accessed by paths that have stairs, steeper grades or loose gravel. Recommended for kids who are sure-footed or in a baby carrier.
Food: Bring your own lunch or snacks to enjoy at benches and tables scattered throughout the garden on a first-come, first-served basis. Some picnic tables are hidden in the corners of the garden so ask a staff member for help locating one.
Family Programming: The garden hosts monthly family events, such as naturally dyed eggs or Mother's Day crafts. Learn more >
Restrooms: Two, clean restrooms are located near the gift shop. One of them even has a changing table!
Website >>
Event & Program Calendar >>
Instagram >>
Facebook > > 
Phone: 510.643.2755
Email: garden@berkeley.edu
Have you visited the UC Botanical Garden at Berkeley? Tell us your favorite area in the comments.