We don't explore the South Bay often enough and have been pleasantly surprised with a number of child-friendly gems in the area, including the Children's Discovery Museum of San Jose. This indoor and outdoor children's museum is engaging, interactive, and educational— with everything from imaginative play stations, to an interactive water play area, and a climbable treehouse. We spent at least two hours there on our last visit and could have played even longer than our allotted time slot (they currently have morning and afternoon sessions with a mid-day break for cleaning).
Indoor exhibits at the San Jose Discovery Museum
The two-storied museum has a plethora of activities and exhibits for kids — primarily under the age of 10 — to explore. We spent most of our time checking out the indoor exhibits because of the many options. So much so that we barely had any time left to explore outdoors.
Our four-year-old daughter is into imaginative play right now so she spent the bulk of the time with exhibits that allow her to use her imagination. A few of her favorites include the life-sized fire truck and paramedics vehicle where she practiced putting out fires and caring for patients. It took a bit of coaxing from us to get her to even look at other exhibits.
Another favorite is the Rainbow Food Truck where kids can transform trays of plastic fruits and veggies into gourmet dishes. Our daughter spent over half-an-hour sorting fruits and veggies into the appropriate colored bins.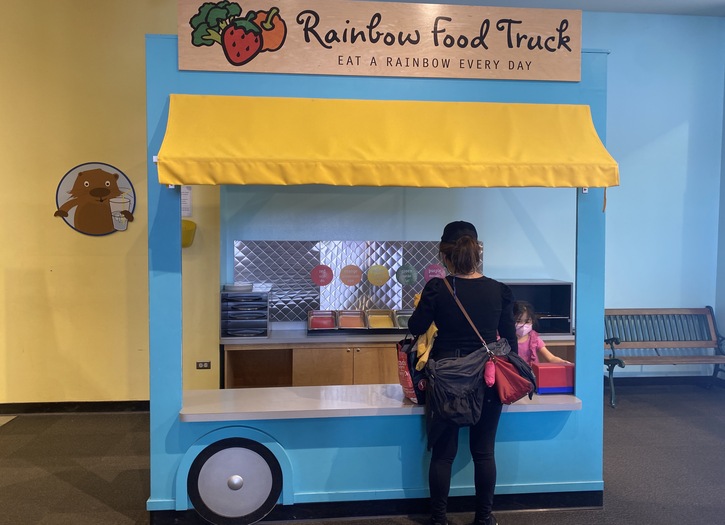 For the younger, toddler crowd, the water play station is a big hit where there are fountains and toddler height water troughs for plenty of splash-time fun. We saw some veteran visitors dress their toddlers in rain jackets and rain boots to keep them dry. Smart play. An extra set of clothes is a must for kids who are water-inclined. There is also an additional dry play exhibit for kids in this age group on the second floor.
We also eyed other indoor exhibits including Mammoth Discovery (first floor) and the Secrets of Circles (second floor) which our daughter seemed less interested in exploring this time around. Something for us to check out on our next visit.
Outdoor play in Bill's Backyard
When we finally made it outside, we spend the remainder of our play session in Bill's Backyard — a half-acre outdoor learning environment with a Tree Climber, LookOut Tower, cement slides, and a gravel dig pit.
The Tree Climber with the rope bridge was a popular spot for many of the kids. Luckily the outdoor area was less crowded towards the end of our play session so there was less to and from traffic on the rope bridge. We appreciated the many benches available for sitting outdoors. A welcome spot for weary parents. Ending our session with some outdoor fun was a great way to end our visit at the museum.
Plan your visit to the Children's Discovery Museum of San Jose
Hours: Wednesday, Thursday, Friday (One Play Session) 9:30 am to 12:30 pm; Saturday and Sunday (Two Play Sessions) 9:30 am to 12:30 pm and 1:30 pm to 4:30 pm
Tickets and Reservations: Non-members can purchase tickets online, here. The museum holds a limited number of walk-in tickets per day, but I'd recommend making an online reservation — particularly if visiting on the weekends.
Price: Adults (18-59 years) $15; Child (1-17 years) $15; Senior (60+ years) $14; Infant (under 1 year) free
Parking: Paid parking across the street from the museum.
Location: 180 Box Way, San Jose 95110
Phone: 408.298.5437
Food: No food is sold or allowed in the museum. Light snacks are allowed in the outdoor play area. For a post-museum meal, consider heading to San Pedro Square Market for some outdoor dining— and oftentimes— live music. Our family appreciates that we can each choose from a variety of cuisines and that there are dessert options, too.
Strollers and Wagons. Strollers are allowed only for children who cannot walk. Otherwise, strollers and wagons are not allowed in the museum.
Bottom Line: I'm with the group of parents who dread driving to the South Bay, but if you're up for exploring a new location, the Children's Discovery Museum in San Jose is a worthy half-day activity to get kids engaged in interactive play and to hopefully tire them out.