I went to an early family preview for the LEGOLAND Discovery Center in Milpitas.
The Bay Area LEGOLAND Discovery Center is a really cool indoor playground for all LEGO builders and wannabes, especially those ages 4 to 10.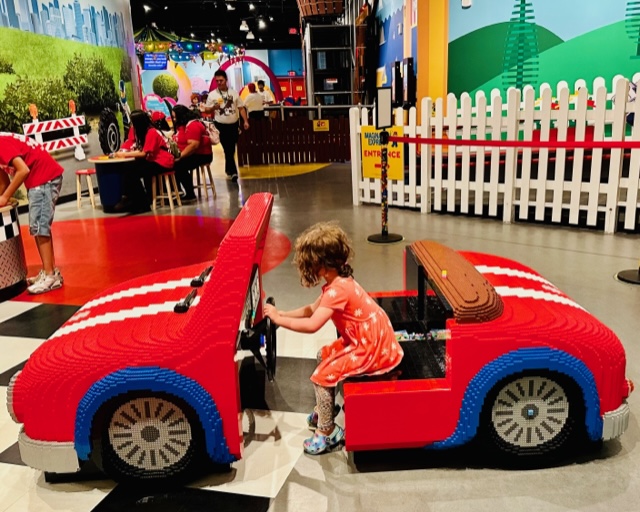 We had so much fun at the LEGOLAND Discovery Center, an indoor 31,000 square feet, LEGO experience complete with building, rides, games, and charm. From the 4-D movie to laser Ninjago game, and of course the mounds of LEGO, my kids were in heaven.
What to Expect at LEGOLAND Discovery Center
You should know that this place is entirely inside. There are millions of LEGO Bricks and some attractions and rides.
MINILAND. Impressive Bay Area MINILAND using 1 million LEGO bricks to recreate San Francisco, Oakland, and other Bay Area landmarks like the Golden Gate Bridge, the Painted Ladies, Oakland City Hall, BART, and Campanile. These structures are interactive — you can turn a key and watch a Minifigure "escape" Alcatraz or flip a lever and make BART return to the City. We adults marveled at the intricacy.
Build & Test Racers. Build your best racer out of LEGO parts and race another kid or parent on the special track. Improve your work and try, try again. There are lots of opportunities to build and test your LEGO creations for durability (earthquake shaker!), too.
Pirate Adventure Island. The indoor climbing playground (giant, thematic wiggle wall) looks fun but my kids only spent a few minutes in there. Oh, and the kids need to wear socks, so if they don't have any you'll have to buy them at the cafe for $1.
Imagination Express. This train ride lets riders pop bubbles using a magic wand while riding along in the dark (like Buzz Lightyear rides at Disneyland for reference) — the kids liked it enough, but nobody wanted to do it a second time.
Ninjago-themed laser obstacle course that scores you on speed and accuracy — my kids spent easily an hour optimizing their scores. Every time we moved on to a new activity, they'd beg to go back.
Creative build challenge area with the Master Builder, Sam.
Lots more hands-on games to test your agility, speed, and creativity.
LEGO 4D movie. A 3D movie where they spritz water in your face a few times (no shaking). You're sitting on an uncomfy wooden bench spaced out and the movies are funny & charming.
Coffee. Starbucks level cafe with some snacks and lunch items.
Store. Exit through this impressive LEGO gift shop, and hold onto your wallets, LEGO Lovers!
Favorites at LEGOLAND Discovery Center
Compared to driving to San Diego for the big LEGOLAND, this was easy and affordable. Compared with playing with our home LEGO collection, this was a splurge and best for a special day.
Favorite for all ages: 4D movie & building cars and racing them against each other.
Favorite for 4, 7, 9-year-olds: Easily, the Ninjago Laser Game!
Favorite for 2-year-old: She loved the big LEGO car with music buttons and the train ride.
Favorite for adults: Competing with each other on reflex light-up game thingy (my husband beat me big time much to my annoyance and his delight)
Parent Tips for LEGOLAND Discovery Center
We stayed for two hours, which was perfect for the bigger kids, but my 2-year-old was getting way overstimulated. An hour probably would have been enough for her.
Food. Eat before you go if you don't want to take a break, or splurge on some pizza and juice at the cafe.
LEGO Store. The gift shop has many special LEGO sets you won't find any other place. Agree on a dollar limit and time limit for the gift shop before going in. Is it "let's get a LEGO Death Star" kind of day or more like, "I wonder if your name is on a keychain" visit?
Bathroom. It is a bit hard to find tucked away by the 4D movie theater, so scope it out before you need it.
Plan your visit to LEGOLAND Discovery Center
General Admission is $30 per person with children 2 and under FREE. Season passes are also a good bet if plan to go more than a few times. Buy your ticket >
Location: 870 Great Mall Drive, Milpitas at Entrance 4  – This is a huge mall if you haven't been before, so plan for that.
Thank you to LEGOLAND Discovery Center Bay Area for treating me and my family to a special visit. My kids haven't stopped talking about the Laser Obstacle Course.