If you have an animal-loving kid at home you'll appreciate this list we've put together of places you can visit animals and creatures large and small in the East Bay and beyond. Little kids like little animals. We love having a membership to the zoo, but what about all the places where a toddler can get really up close and personal to animals for FREE?
6 Free & Free-ish Local Outings For Kids Who Love Animals
We have a number of favorite destinations for visiting animals that are not quite open yet, thanks to Covid-19. We'll update this spot when we hear some good news!
East Bay Vivarium (Berkeley)
Creepy crawling things abound at this reptile lovers' nirvana. It's best to come and browse on a weekday morning (open at 11 am). They have oodles of snakes and turtles, frogs and lizards, and so much more. Don't miss Lemondrop, the 15-foot snake in the back right corner of the store! Pro tip: Make sure your little one knows what will or will not be coming home with you before you enter. Why we love the Vivarium for kids >>
Website >
Tilden Park Little Farm (Berkeley) FREE
Berkeley's Little Farm is a well-known admission-free place to feed goats, watch piggies, and chase your sibling. Bring celery. Clean bathrooms and a small playground reward guests. These days, it requires reservations, but we hope that ends soon! All about Tilden Little Farm open for booking >>
Knowland Park (Behind The Oakland Zoo) FREE
A secret little hike behind the Oakland Zoo where you might see a bear, wolf, or vulture. You will almost definitely see doggies (on and off-leash). This little hike also offers spectacular Bay views and a tree swing. Read more details about how to spot the animals behind the Oakland Zoo >>
East Bay SPCA (Oakland and Dublin)
Children, ages 10-15, can volunteer with a supervising adult to care for animals. East Bay SPCA also offers animal camps for younger children (not free!). If you really want to be a hero, animal fostering opportunities are available. Opportunities may be limited because of the pandemic. Become a volunteer with animals >
Ardenwood Farm (Fremont) Almost FREE
Ardenwood is a working farm with many classes and seasonal activities for a small fee (like $2). Something new is always happening. Reservations required. Learn about booking a spot at Ardenwood Historic Farm >>
Hidden Villa Farm (Los Altos) Super Cheap
For only $10 per vehicle, kids can visit with chickens, giant sheep, and other farm animals. Reservations required. See why we loved our visit to Hidden Villa >>
Website >
9 More Bay Area Outings For Kids Who Love Animals ($-$$$)
The good news is that if you have an Oakland Zoo membership, it will give you discounted admission to many of these places and it works the other way, too. Always check for membership discounts!
Cat Town and RAWR Cafe ($)
Your $10 admission charge goes right to supporting Oakland's most vulnerable cats. Children ages 12 and under must be accompanied by an adult (no more than two children per adult). Coffee is available to-go but they are not currently serving food.
Make reservations >
Oakland Zoo (Oakland) $$
A local gem that'll thrill your little animal lover with lions and tigers and bears (and a lot more!). The large gondola and California Trail section at the top are fabulous additions to this already lovely zoo. It's not cheap, but if you become a member you'll likely make it worth your while within a few visits. Read about the Oakland Zoo here >>
Website >
Lindsay Wildlife Experience (Walnut Creek) $
What's great about this East Bay animal experience is the programming geared towards young children. Cool animals include porcupine, owls, and rats. Our favorite is the movement-based Wildlife Wiggles program that they offer on Monday and Friday mornings at their outdoor campus.
Website >
San Francisco Zoo (San Francisco) $$
While we love the Oakland Zoo, the San Francisco Zoo offers a few other animals worth the drive (and with traffic, boy is it a drive!). The penguins are so adorable, and the komodo dragon, snakes, giant rhinoceros, and anteater offer some wow moments. If you have bug-loving kids, the Insect Zoo is a must-see. San Francisco Zoo is open >>
Website >
Cal Academy of Sciences (San Francisco) $$
More a science museum than a zoo, Cal Academy in Golden Gate Park has thousands of animals including amusing penguins, an albino alligator, and butterflies. Cal Academy of Sciences requires reservations >>
Website >
Happy Hollow Park & Zoo (San Jose) $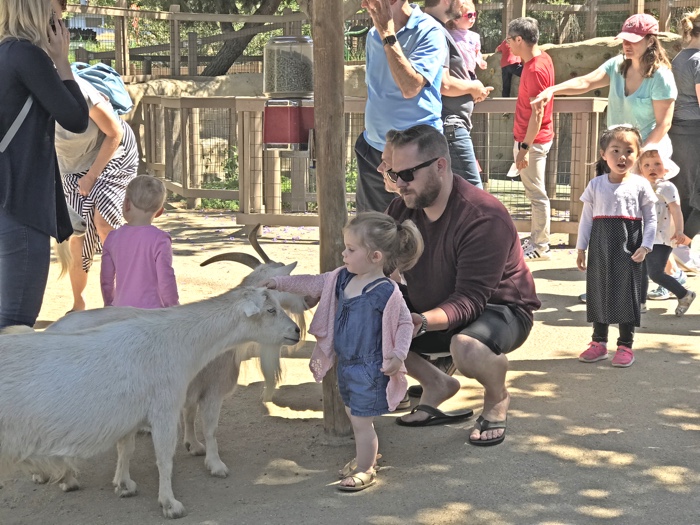 Part amusement park and part Zoo, San Jose's Happy Hollow Park & Zoo is a fun-filled destination for a family with young children, just under an hour's drive from Oakland. Reservations required. Animals include capybara, peccary, monkeys, and interesting birds. Everybody loves a meerkat.
Website >
Safari West (Santa Rosa) $$$
Like an African safari you can drive to, some kids will really enjoy riding on top of a jeep and scouting for zebra, wildebeest, and giraffes. You might get chased by an ostrich or guinea fowl for good measure. We had lots of fun at Safari West but it is a splurge.
Website >
Monterey Bay Aquarium (Monterey) $$
The famed Monterey Bay Aquarium is wonderful whether you do it as a day trip or weekend getaway. Children will be entertained by sea otters, penguins, sharks.
Website >
CuriOdyssey (San Mateo) $$
Half zoo, half science playground, you'll find plenty of cute little critters to entertain your little ones, as well as some fun play areas too. The otters are certainly a favorite. Read about our Half-day Trip to CuriOdyssey.
Website >
Where do you take your kiddos to get up close and personal with animals in the East Bay?
xxx