Breaking up a long drive with a bathroom break and a Starbucks run is, well, okay, but having a destination that kids can get excited about goes a much longer way toward making the trip bearable. Stopping to explore or climb on something new may even buy you a nap. Here are my favorite stops between Oakland and Santa Barbara, all within a few minutes of "the 101" as we native Los Angelenos call it. (Don't stop at all of them or you'll never reach your destination.)
10 kid-friendly spots near California's US-101
These recommendations are listed in order from north to south, starting from the Bay Area.
Happy Hollow Park & Zoo
As soon as Oakland's 880 converges with to the 101, about you are spitting distance from this fantastic Zoo and amusement park, which is best for kids under 7.
Read our review here >
101 exit: Story Road in San Jose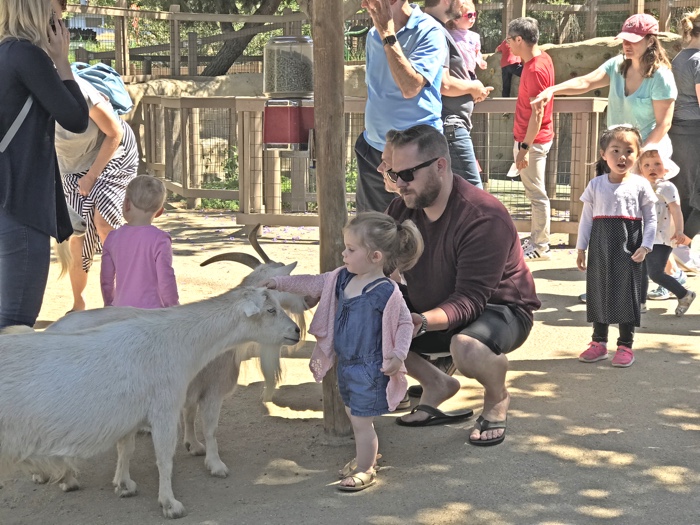 Quick Service Food Spot #1
It's not exactly something to write home about, but after you leave San Jose, the towns are fewer and farther between for a while. My family often stops in Morgan Hill, about 1 hour and 15 minutes from Oakland where a Peet's Coffee, Five Guys Burgers, and Chipotle share a patio.
101 exit: Cochrane Road in Morgan Hill
Quick Service Food Spot #2
If you have shopping needs, the outlet center in Gilroy is directly adjacent to the freeway, less than 2 hours south of Oakland and there are also food options within the shopping mall, including In N Out (expect a line!)
101 exit: Leavesley Road in Gilroy
Tatum's Garden Inclusive Playground & Park
This unique playground is large enough to burn off loads of energy, with cool farm-themed play structures (and no sand or mulch to track back to the car!)
Read our review here >
101 exit: W. Laurel Drive in Salinas




San Lorenzo County Park
This large park has grassy areas and a playground. But wait! There's more! The onsite museum has historic barn artifacts including massive tractors. Lots of photo opps!
See the park's Yelp page >
101 exit: Broadway Street in King City
Downtown Paso Robles
This "central coast" town is not on the coast at all, but rather right on the 101, surrounded by wine country. The Downtown City Park includes a great playground and picnic space, plus it's encircled on all sides by cute shops and restaurants. Have more time? Check out the Paso Robles Children's Museum.
101 exit: Spring Street, Paso Robles
Atascadero's Charles Paddock Zoo
With $5 admission for children under 11 (kids 2 and under are free), the Atascadero Zoo is the perfect size and price commitment for a quick-ish stop to see the animals.
Get details on the Charles Paddock Zoo website >
San Luis Obispo
More than 200,000 Californians live in San Luis Obispo, so it has everything you might need or want — restaurants at every level, parks and playgrounds, and a Children's Museum just blocks from the freeway. SLO is on trend, but not edgy, so if you are looking for something quirkier, consider stopping a few miles before at The Madonna Inn where the tufted leather booths in the dining room are hot pink — and so are the tennis courts. Otherwise, SLO is the perfect place to break up the drive between Berkeley and LA, if you are going the long way on 101 instead of I-5.
San Luis Obispo Children's Museum website >
Butterfly Migration Trail
From October to February, Monarch butterflies make their way south along the California coast. Bring binoculars if you want to make one of these pitstops to view a Monarch colony before you get back in the car. See where they can be observed, but note that Pismo Beach is the only roosting spot that's within a few minutes of the 101.
101 exit: Highway 1 exit in Pismo Beach
Solvang and Ostrichland USA
I have never been to Ostrichland, but it sounds like the perfect pit stop. $5 for adults; $2 for kids and you get to feed the enormous birds and emus. Ostrichland is just north of Solvang where the windmill of that mini Danish-themed town can be seen from miles away. Ok, maybe one mile away. Solvang is home to more than 20 Danish bakeries and candy shops. Just saying.
See hours and details on Ostrichland USA >
101 exit: Hwy 246 in Solvang
What's your final destination? I'm curious!