Note: During the hard rains, be cautious that the recommended path is still safe before you set out with a new rider. 
Teaching a child to ride a bike is challenging enough, and for those of us who live on busy streets, those first rides can't be out in front of our houses. Live in the hills? Streets and sidewalks full of cracks and potholes? Here's a list of safe, paved areas where other East Bay parents have taken their children to learn to ride their bikes.
Places to Teach your Kid to Ride
Here's a list of places that 510Families.com readers have had success in teaching their kids to ride their bikes.
Berkeley and North places to test out your new bike
Barbara and Jay Vincent Park (Richmond) – nice paved routes and small beach for sand and water play.
Bay Trail behind Costco – the surface is flat and there is generally grass on the side – the entire trail connects Crockett to Emeryville passing through the Richmond and Berkeley marinas along the way. Clear days reward you with spectacular views of San Francisco, Alcatraz, and Angel Island. Avoid weekends with new riders
Berkeley Marina/Cesar Chavez Park – paved path heading North (bring a kite!)
Cedar Rose Park – grass as a soft landing place during the falling phase
Cerrito Vista Park – paved paths and soft grassy landings
El Cerrito DMV Parking Lot – nice large parking lot, great for new riders on weekends
Dirt World, Richmond – to practice balance, new striders will love the little loop and watching the other cool riders. More about Dirt World.
Golden Gate Fields – the parking lot is huge and empty when there's no event
King Middle School – look for the flat paved area.
Miller Knox Park – this Richmond park has a flat pathway
Ohlone Trail – The stretch between North Berkeley BART and University is wide and not very populated
San Pablo Park (Berkeley) – paved paths and soft grassy landings — head away from the playground construction!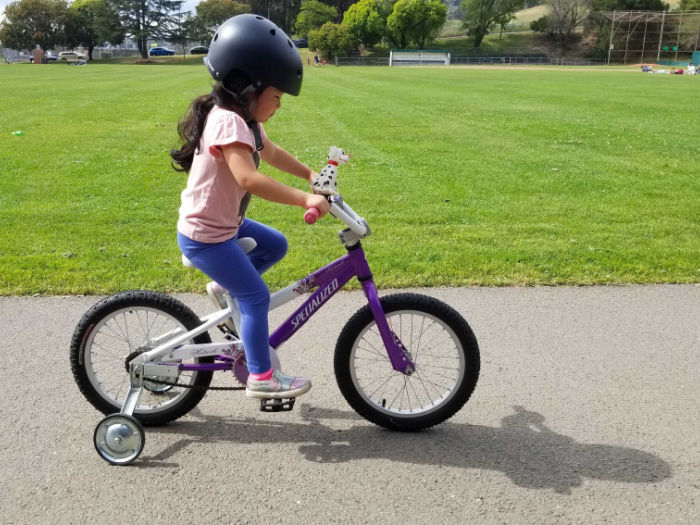 Oakland and South parks and paths for learning to ride a bike
Alameda Creek Trail (Fremont)
Alameda Navy Base
Alameda Shoreline
The Gardens at Lake Merritt – surrounded by paths in the Lake Merritt-adjacent area
Jean Sweeney Park in Alameda has an amazing bike path, wide and totally flat./
Joaquin Miller Park around the lower oval pool
Lake Temescal – path between two ends of the park
Martin Luther King Jr. Regional Shoreline Park – tons of great, flat trails and is never crowded
San Leandro Marina
East of the Caldecott Tunnel where we like to bike with kids
Moraga Commons – a lovely park with a path
Iron Horse Trail
Where else do you like to teach a kid to ride a bike? Share in the comments!
[photos by 510families team, all rights reserved]