There's just something special about eating outside. And since we live in a place that allows for outdoor dining well into the winter, we've rounded up 15 Berkeley Restaurants that offer patios ideal for families. So let the sound of kids rejecting their food drift up into the heavens instead of bouncing off the walls and driving us all crazy. When the air quality is good and social distancing permits, dining al fresco can be a real treat for the whole family!
Top Kid-friendly Restaurants in Berkeley with outdoor seating:
Westbrae Biergarten (N. Berkeley)
Located just along the Ohlone Greenway and Gilman, you can easily take a family ride to your lunch or dinner at the Westbrae Biergarten. They offer plenty of outdoor tables and a kid-friendly menu. Sandwiches, salads, rice bowls, and a cornucopia of beer and cider. Prost! Website >>
Barney's on Shattuck Ave. (N. Berkeley)
Barney's outdoor seating is up above street level, providing a view of the bustling Upper Shattuck shopping district. Serving burgers and fries in many flavors, Barney's has something for everyone, including fresh salads and falafel.  Website >
Crepevine (North Berkeley)
With an overwhelming menu of crepes and other breakfast foods served all day, Crepevine also has pastas and salads — and is open for dinner. Inspired by the pandemic, the Upper Shattuck Avenue location features a cute parklet with tons of plants and tables for families. Wikki Sticks are offered to kids for pre-meal entertainment. Website >
Related: Kid-Friendly Outdoor Restaurants in Oakland
Cafe Leila (W. Berkeley)
On San Pablo, north of University, this casual restaurant produces high-quality, California-style fresh food and a large patio with enough room for dogs and strollers. Service can be slow. Try brunch. Website>>
Jupiter (Downtown Berkeley)
This large and festive patio is filled with students and young families. The pizza and salads are delicious. The central fire pit is not awesome for toddlers, but they can't get to it without climbing. Located conveniently for meeting a parent hopping off the BART in Downtown Berkeley. Street parking requires tenacity.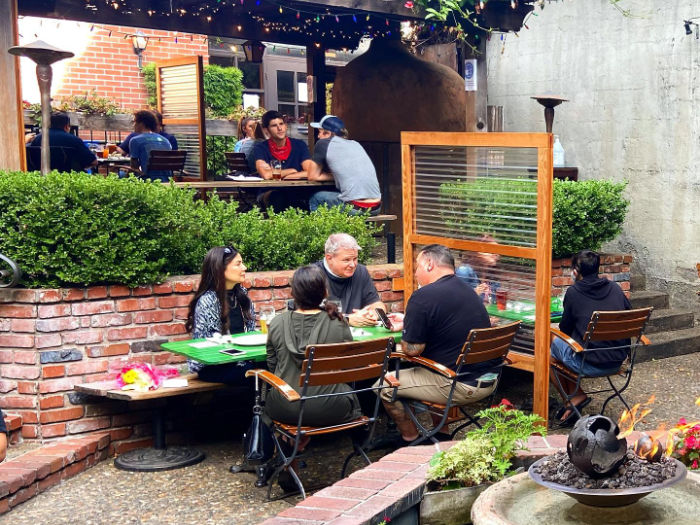 La Note (S. Berkeley on Shattuck Ave.)
A traditional French bistro with an authentic vibe and a pretty little patio on Shattuck in downtown Berkeley. For families, La Note is best for breakfast or brunch, with a vast menu of pancakes, French toast, and pastries. There is usually a wait, so best to go right when they open. Website>> 
Tacubaya (W. Berkeley on 4th Street)
On Berkeley's 4th Street, Tacubaya patrons may sit outside with their food on tables shared by Tacubaya and the adjacent Market Hall. Ideal for pulling a stroller up next to your table for a weekend brunch. Feeding a baby or young toddler? A side of pureed beans is on the menu! Website >> Also, see our guide to Fourth Street with Kids >>
Pollara (W. Berkeley on 4th Street)
Next door to Tacubaya, Pollara sells focaccia-pizza with a variety of toppings. Whether or not this appeals to your little ones, we cannot predict!  Website >>
Oceanview Diner (W. Berkeley on 4th Street)
Also on 4th Street, this breakfast and lunch institution is famous for its pancakes, and with good reason. The outdoor seating area offers great people-watching right there on the main street, but beware it'll likely be busy. Bette's To Go is right next door if you get impatient. Website >> 
Tomate Cafe (W. Berkeley on 5th Street)
Yes, another breakfast/brunch/lunch spot, but isn't that window of time really the most doable with little kids? Get the French toast. Located in West Berkeley on the corner of Bancroft and 5th Street, Tomate is dog-friendly, too! Play at Dream Land after your meal. Website >>
El Patio (W. Berkeley)
The name says it all! This hip spot is truly a great bar with a small but festive patio in the back. They serve tasty tacos, chips, and guac, but convince your kid to be bold and try an arepa, a small South American-style patty stuffed with fillings such as beans or pork. In West Berkeley just south of University. Website >>
Gilman Grill (NW Berkeley)
A local neighborhood favorite for weekend breakfast and brunch. The noise from Gilman is a great cover for your boisterous children. Outdoor tables and umbrellas offer a friendly outdoor space to enjoy your meal. Website >>
Lama Beans Cafe (NW Berkeley)
Also on Gilman, this cafe is another neighborhood favorite with solid breakfast and lunch family options (Nutella stuffed French Toast anyone?). They also offer a 3-course Dinner option that's great for sharing with littles. Try the buttermilk fried chicken. The outdoor seating is adjacent to a very busy street, so not our strongest rec. Website >>
The Berkeley Boathouse (Marina)
Tucked away in the Berkeley Marina in the Doubletree Hotel, this family-friendly restaurant offers a heated patio overlooking the water and boats. The food is only okay, but the view is special. Website>>
Cornerstone (Downtown Berkeley)
Choose from more than 40 draft beers when you take your family to this brewpub in Downtown Berkeley. As seen in the photo below, the oversized back doors open onto a casual patio. The menu is standard bar food, but, like, Berkeley-style: burgers, club sandwiches, fish & chips, or a superfood salad packed with nutritious goodies like blueberries, avocado, and kale. We love that they serve cheese boards and sausage boards for the whole group to share. Website >>
Pin this post to remember it later!